THE WICKEDEST TOWN IN THE WEST
Jerome
The historic town of Jerome, Arizona is located high on top of Cleopatra Hill between Prescott and Flagstaff. Once known as the Wickedest Town in the West, Jerome has seen days as a billion-dollar copper mining camp and a bona fide ghost town. Today, the mile-high town is a scenic and historic boutique arts and wine destination. Jerome is open year round and offers visitors a wide variety of activities in which to indulge.
Jerome eateries are all within a 5-minute saunter of The Surgeon's House, and each is delish in its own right. Jerome also boasts a broad expanse of every creative energy and every medium imaginable in its shops and galleries.  More than thirty working studios, galleries & gift shops line Jerome's crooked streets – filled with original, one-of-a-kind creations from talented local artists. Jerome also offers two museums that specialize in the history of Jerome from the early wild west days, through the booms and the busts, up to the present day. There are two fun and friendly bars in the downtown area, and entertainment is regular and rockin'. Great bands love to play in Jerome, and music festivals throughout the year bring incredible talent to the town.
Whether it's a long weekend get-away or just a day trip, Jerome offers something for everyone. The town's galleries, shops, eateries, bars and tasting rooms, historical sights and glorious vistas will all add up to a most memorable visit to mile-high Jerome!
Visit the Jerome Chamber of Commerce website or walk into the Jerome Visitor Center to learn more about places to eat, drink, shop and sightsee in Jerome!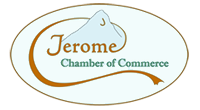 UP ON CLEOPATRA HILL
History of Jerome
Jerome was built on Cleopatra Hill above a vast deposit of copper. Prehistoric Native Americans were the first miners, seeking colored stones. The Spanish followed, seeking gold but finding copper. Anglos staked the first claims in the area in 1876, and United Verde mining operations began in 1883, followed by the Little Daisy claim.
Jerome grew rapidly from tent city to prosperous company town as it followed the swing of the mine's fortunes. The mines, the workers, and those who sought its wealth formed Jerome's colorful history. Americans, Mexicans, Croatians, Irish, Spaniards, Italians, and Chinese made the mining camp a cosmopolitan mix that added to its rich life and excitement.
Jerome was the talk of the Arizona Territory, the boom town of its time, and the darling of promoters and investors. The mines were nourished and exploited by financiers, and brought billions of dollars in copper, gold, and silver from their depths. Changing times in the Territory saw pack burros, mule-drawn freight wagons, and horses replaced by steam engines, autos, and trucks.
The population peaked at 15,000 in the 1920's but fire ravaged the clapboard town and landslides destroyed whole sections. Jerome was always rebuilt. At the mercy of the ups and downs of copper prices, labor unrest, depressions and wars, Jerome's mines finally closed in 1953. After the mines closed in 1953 and "King Copper" left town, the population went from a peak of 15,000 in the 1920s to just 50 people. The Jerome Historical Society guarded the buildings against vandalism and the elements, the Douglas Mansion became a State Park in 1965, and Jerome became a National Historic Landmark in 1965.
During the 60's and 70's – the time of the counter culture – Jerome offered a haven for artists and hippies. Soon newcomers and Jerome old timers were working together to bring Jerome back to life. Today, Jerome is very much alive with writers, artists, artisans, musicians, historians, and families. They form a peaceful, colorful, thriving community built on a rich foundation of history and lore.
Learn more about the incredible history of Jerome, Arizona with a visit to the Jerome Historical Society website.

Jerome's extensive history and mining operations are featured at Jerome State Historic Park, also known as The Douglas Mansion, named after James S. Douglas. This world class museum hosts a collection of artifacts and exhibits where visitors can learn about turn-of-the-century mining and lifestyle of Jerome.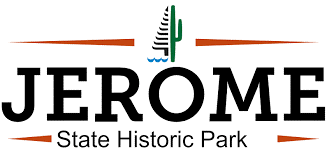 VISIT JEROME
So Many Ways To Enjoy Your Stay!
OTHER
Historic Jerome's Lodging Establishments
If we're not able to host you at The Surgeon's House, please consider a stay at one of Jerome's historic lodging establishments: The Ghost City Inn B&B, The Connor Hotel or the Jerome Grand Hotel. Your patronage at these locally-owned and locally-operated venues supports our Jerome community, and helps preserve the historical authenticity of the town.
The Ghost City Inn has provided lodging for over 120 years and continues to be one of Jerome's favorite B&B's. A true feeling of the past and views of the entire Verde Valley await your arrival. This unique, one-of-a-kind B&B has been featured in many articles over the years. The Ghost City Inn will create memories to be cherished forever.
Rates: $95 – $205
Phone: (928) 634-4678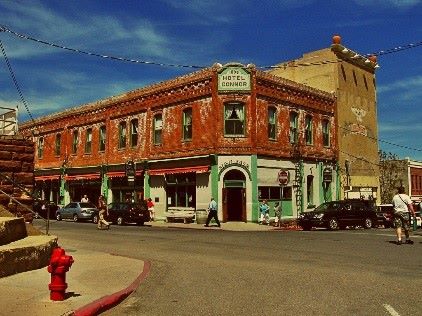 The Connor Hotel has operated in the heart of Jerome since 1989. This historic hotel features shops, rooms upstairs and the famous Spirit Room downstairs. Each room has its own indiviual custom features, and furnishings that will delight any guest. Restaraunts, shops, galleries and museums are just steps away.
Rates:  $125 – $185
Phone:  (928) 634-5006
The Jerome Grand Hotel is Jerome's only full service hotel with its 1926 Otis elevator serving all 5 levels, a 24-hour lobby and our award winning Asylum Restaraunt and Lounge. Eight varieties of rooms to choose from, all having climate control, HDTV and Wi-Fi. Complimentary pastries, bagels, coffee and tea served every morning in our lobby. Early check-ins welcome with availabiility.
Rates:  $165 – $525
Phone: (928) 634-8200
Drive up the hill & into the past!