HISTORY OF
The Surgeon's House
Built in 1917 for Jerome's Chief Surgeon, this home has been on the National Historic Registry since 1966, and has a rich history.
The property, on Hill Street in Jerome was originally the George W. Hull Homestead Tract. Mr. Hull was far-sighted and industrious, and obtained what became the town site of Jerome, Arizona and much of the surrounding mineral rights. When major companies wanted his interests, his price was one million dollars. The United Verde Copper Company paid it.
On the site the Company built a new hospital and a virtual mansion for their Head Physician to live in. Arthur Kelly, noted Los Angeles architect, designed both with arched windows, gleaming stucco, and rich red tile roofs. All the modern comforts were included.
Used for years as the nurses' residence, in the early 1930's the house became home of the then Chief Surgeon, Dr. Arthur Carlson, and his family. Decorated with the finest, it became a warm and hospitable home. Parties were held to create a diversion for the Company's upper echelon from the hard work in this hard rock mining town.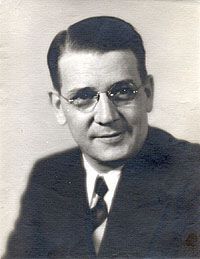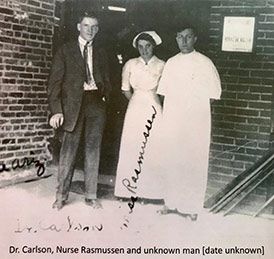 Dr. Arthur Carlson & Nurse
From 1950 – 1952:
Dr. William Wainright McKinley, Jr. and his family occupied the home.
Dr. William Wainright McKinley, Jr.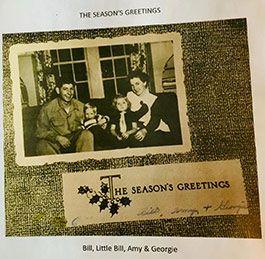 Dr. McKinley's family Christmas card
image from inside TSH
William Wainwright McKinley III, seen as a 3-year-old in the holiday image returned for a visit during 2017 and was instrumental in filling so many blanks in their era here with personal stories, images, and vignettes. Members of the McKinley family continue to grace us with the occasional visit as it continues to be their 'home' as well. Read about those visits in This Is Your Life – The Surgeon's House, Dear Diary while you are relaxing during your next stay.
Chronology of Residents at The Surgeons House
Date unknown:
The Honorable George William "Granny" Hull sold the property to the United Verde Copper Company
1916 – 1917:
Construction of the Surgeon's House
1917 – 1921:
Dr. Lee Perry Kaull, Chief Surgeon
1917 – 1928:
Nurses: Mattie Jacobs Leyel (Head Nurse), Cecilia "Barkie" (Barker) Williams, Irene MacDonald, Ruth W. Denison and Betty Pecharich
1928 – 1945:
Dr. Arthur Charles Carlson, Chief Surgeon, wife Maude Howell Carlson, children: Frank, Arthur, Jr., Mary Lou and Charles
1935:
United Verde Copper Company sold the property to Phelps Dodge
1945 – 1950:
Dr. Elvie Byron Jolley, Chief Surgeon, wife, son and daughter
1950 – 1952:
Dr. William Wainright McKinley, Jr., Chief Surgeon, Georgie Louise, wife, William McKinley, III, son, Amy Louise, daughter, and Thomas N. McKinley, son
1952 – 1955:
P. C. (Ben/Benny) Benedict, wife Nancy and son Louis. Ben Benedict was the Chief Geologist for the Newmont Mining Company.
1955 – 1967:
John and Elizabeth McMillan, daughters Georgia Lee, Pat and Jonny Jean.  John McMillan managed many of the Phelps Dodge Properties, was in charge of the Jerome Mine Museum and, together with his wife, ran the gift shop.  He was also the Mayor of Jerome.
1967 – 1975 (maybe longer):
Leo Sullivan and wife
1975 – 1980:
Unknown
1981 – ?:
Jere J. and Dorothy Lepley
Rosemary Martin, squatter and possible renter
Jan. 1990 – Aug. 1992:
Henry "Hank" F. and Coleen Bowen
Sept. 1992 – Present:
Andrea J. Prince
After the closing of the mine in 1953, the house became home for the Company's agent, and later, other Jerome community members. Councilmen, mayors, merchants, geologists, policemen, even the local Jerome postmaster, all enjoyed the simple elegance of this house. Leo Sullivan and his wife, who served as Jerome's postmistress, occupied the home from 1967 to 1975.
The house fell into disrepair over the years, but has now been lovingly restored to its former beauty. Andrea has located and exposed the core, the very essence of the integrity of this historic house. The gardens, unique rooms and decks, rich wood floors, and the chauffeur's quarters have all have been beautifully restored. So come and stay with us and become an ongoing part of history. As a poet once said, "History is a pattern of timeless moments."
It seems impossible that this beautiful structure is as old as she is but in 2017, we celebrated the 100th birthday by hosting various events during the year that focused on different elements of its past – its builders, its residents, its interwoven history with the town itself.  Andrea has lived here since 1992 only and can hardly believe the changes she's seen in that short period of time.  This home, her home, is a living, evolving project of Vision, Light & Love, Maintenance, and Growth so when she celebrated her 20th anniversary of owning The Surgeon's House she couldn't resist putting together the old 'then and now' picture show reflecting what the home looked like the very first day she saw it July 31, 1992, and then in 2012 after 20 years.  Enjoy peeking back in time and then when you are here for a stay, spend a few moments in the Renovations binder of This Is Your Life – The Surgeon's House to see how we got from 2012 to the present.
ENJOY THAT TIMELESSNESS OF THE SURGEON'S HOUSE WITH US SOON – COME AND STAY. . .
Present-day Surgeon's House Bed & Breakfast in Jerome, Arizona

BEFORE & AFTER
Photo Gallery of The Surgeon's House